Note: Ensure you use Google Chrome or Mozilla Firefox browser during installation.
Create your email signature on MySignature.io and follow these simple steps to install it in Gmail:
Step 1.
After creating your email signature, click Save signature button under the signature preview.
Or, if you have saved your signature, find your signature on the Dashboard and click Install button.


Step 2.
Select the Gmail icon in the list of email clients, then in Mozilla, click Copy to clipboard button.

Or, in Chrome move the mouse cursor to the left-hand of the page and click Copy to clipboard.


Or, you can click Install using extension button and add your signature automatically to your emails using our Chrome extension.


Step 3.
Open the Gmail mailbox. Look at the top right corner of the Gmail page and click a gear icon. Then click the See all settings button.
Step 4.
After being forwarded to the General tab, please scroll down until you see the Signature section and click + Create New to create a new signature.

Step 5.
Give a name to your mail signature and click Create.

Step 6.
Paste the signature into the signature box using either Right-Click, then Paste, or CTRL +V shortcut.
Optional: Check the box to "Insert the signature before the quoted text".

Step 7.
Select your signature from the drop-down menu in Signature defaults if you want your signature to appear automatically every time you compose a new message.
Note: You can have different signatures for new emails and replies/forwards.
Step 8.
Once your Gmail signature is ready, scroll down to the bottom of the page and click Save Changes.

Or, watch this video guide.

Note: If in Gmail's message composer you have the Plain text mode enabled, you will not be able to use email signature with images, social media icons, or hyperlinks.
Luckily you can disable the Plain Text mode. To do that, please click More option (three dots) and deselect the Plain text mode option. However, you may need to wait a few seconds for the changes to apply. You may also need to reload your signature if it was already changed to the Plain Text format.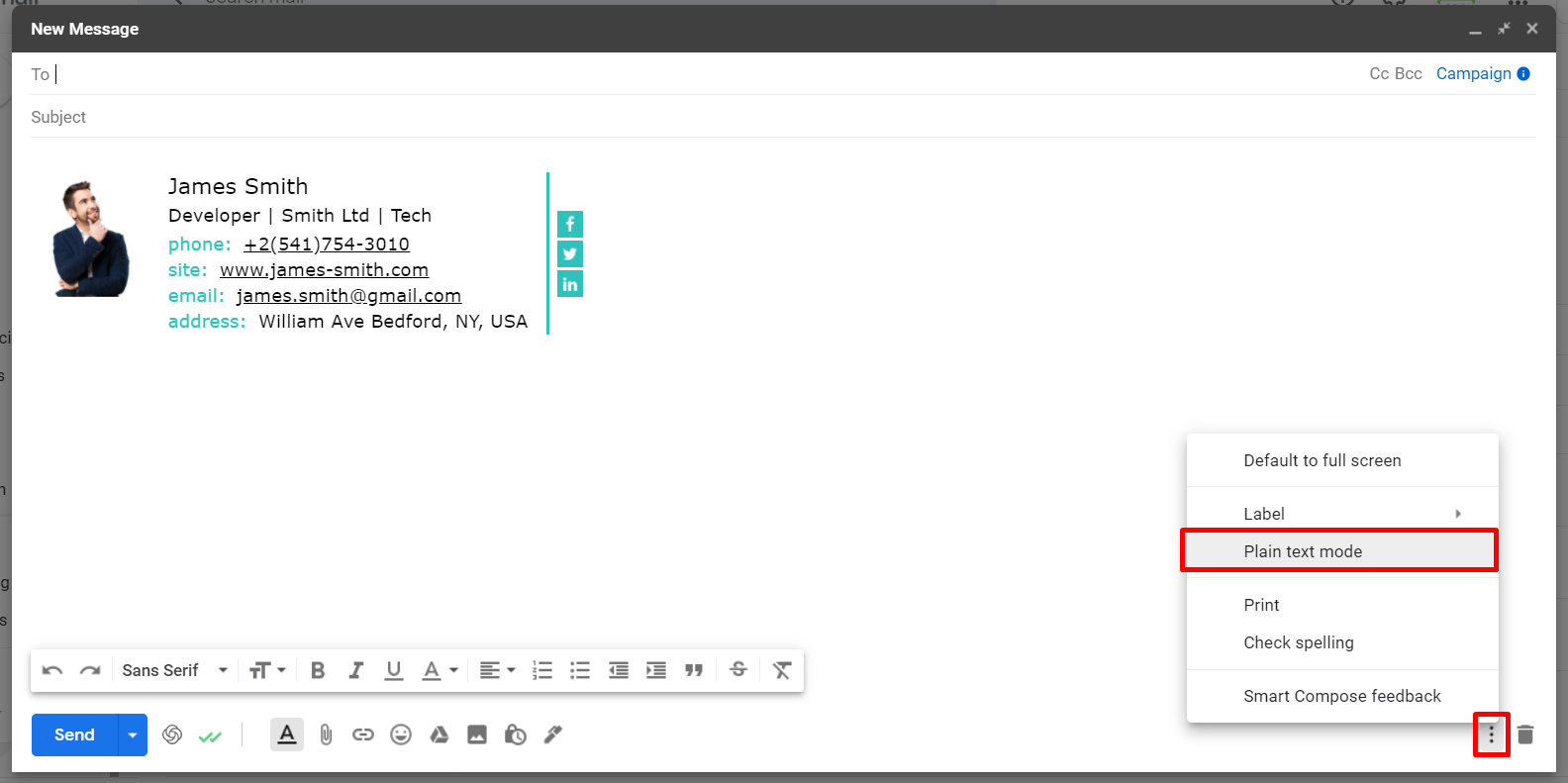 Important note: If you are still looking for an option on how to automatically add your signature to your emails without manually copying/pasting it, please install our Chrome extension. You can find more information on how our extension works and how to install it in the guide How to install signature in Gmail using MySignature Chrome extension?.
.